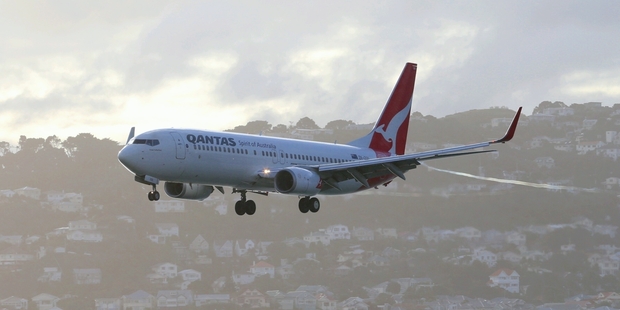 Qantas shareholders could be set for another windfall after the airline revealed it is on track for a record full-year profit, just two years after its biggest loss. The airline said yesterday it expects to more than double first-half pre-tax profit to between A$875 million ($931 million) and A$925 million when it announces its six-month results in February, not far off the A$975 million it made in the whole of the 2015 financial year.
Qantas, which lost a record A$2.8 billion in the previous financial year, said improved revenue, cost-cutting and continuing lower fuel prices were all playing a part in its turnaround.
The first half of the financial year is typically stronger for Qantas because it includes Christmas travel, and the second half features a drop in business travel during the holiday months of January and February.
But even allowing for the seasonal variation, analysts expect Qantas to report pre-tax profit of about A$1.6 billion for the 2016 financial year, comfortably beating its 2008 record of A$1.41 billion.
That puts it firmly in line to obliterate last year's A$557 million net profit and trump the all-time record A$970 million net profit it reported in 2008.
"We've seen improved revenue in our domestic and international operations, reduced costs across the group through the Qantas Transformation programme, and expect another record half-year result from Qantas Loyalty," chief executive Alan Joyce said.
"This strong performance is underpinned by our continued focus on delivering the best service for our customers in all of the markets we serve."
Most of the A$557 million full-year net profit announced in August was handed back to shareholders in the form of a A23c per share cash distribution, and Merrill Lynch analyst Matt Spence said he expects Qantas to announce a buyback of between A$500 million and A$800 million.
"Qantas has the cash to accommodate up to A$800 million," Mr Spence said.
"It will more be a question of how hard the company goes in actually executing the programme."
Qantas shares closed down A9c yesterday at A$3.69.
The positive forecast by Qantas includes the A$25 million hit its Jetstar service took because of cancellations after a cloud of volcanic ash twice forced the closure of Indonesia's Denpasar Airport in July.
Qantas bounced back into the black in FY15 thanks largely to a hedging programme that exploited falling fuel prices and a A$2 billion transformation programme that included 5000 job cuts.
The same factors are in play this year, and the airline is wringing extra capacity out of its fleet by reducing turnarounds for its workhorse Boeing 737s to as little as 35 minutes through new ground procedures.
The airline, which said it has also renewed its frequent-flyer participation in Woolworths' supermarket reward programme, reported yesterday that group domestic capacity for November was 0.9 per cent higher compared to the prior corresponding period.
Qantas quantified
• expected FY16 pre-tax profit: about A$1.6 billion • FY15 pre-tax profit: A$975 million • FY14 pre-tax loss: A$646 million • Record full year pre-tax profit: A$1.41 billion in 2008 • Record first half pre-tax profit: A$905 million in 2008.
- NZ Herald
5:00 AM Wednesday Dec 16, 2015