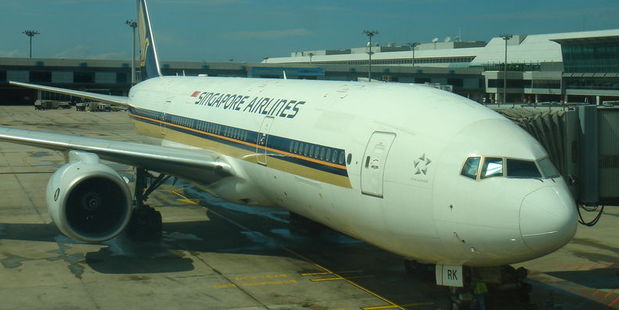 The new flights will be operated using 266-seat retrofitted Boeing 777-200 aircraft. Photo / Wikimedia Commons - mailer_diablo Singapore Airlines has just confirmed it will start flying between Wellington and Canberra, launching in September.
The airline will link the two cities for the first time with a four times a week service that will fly on to Singapore.
It is the first time the two Australasian cities have been linked and is a coup for both as they expand international operations.
Singapore Airlines has dubbed the service the "Capital Express" and it is aimed at the lucrative government and corporate market more likely to fly in business class seats and the leisure market, particularly Kiwis who want to connect with the airline's network in Asia.
Singapore Airlines executive vice president commercial, Mak Swee Wah, said his airline was "extremely proud" to be the first airline to provide non-stop flights between the New Zealand and Australian capital cities.
"New Zealand is a very important part of our global route network and is a popular destination for visitors from around the globe. New Zealanders are also renowned worldwide for their enthusiasm for travel," he said.
Although Wellington Airport has plans to extend its runway by 300m as part of a plan to attract long haul flights with aircraft such as the Boeing 777, at least two of those planes have landed at the airport previously.
Airport company chief executive Steve Sanderson said the announcement marked an historic day for Wellington.
Wellington's connections will be greatly improved, and travellers will be able to stay on the same widebody plane all the way to Singapore and connect onwards to Asia, Europe and other parts of the world from their award winning global hub, Changi Airport.
Tickets for the new service, which is subject to regulatory approval, will be on sale from next Monday, with fares from $1808 for Wellington-Singapore return and $587 for Wellington Canberra return.
Singapore Airlines' fleet of more than 100 aircraft flies to 60 destinations in 33 countries and it currently operates 14 round-trip flights from Auckland and Christchurch to Singapore a week.
With the addition of the Canberra service it will also be the first time a non trans-Tasman carrier has operated to more than two points in New Zealand.
Wellington Airport has 100,000 flights and almost six million travellers a year. This number is expected to reach 10 million by 2030.
10:01 AM Wednesday Jan 20, 2016